Surface Finishing Webinars
New Topic !
How to meet requirements of the aerospace standard AMS2547 on the electropolishing of the critical and non-critical metallic parts manufactured by trending 3D printing techniques?
A while ago, we have informed about the new aersopace standard AMS2547 that requires to use a CAE (Computer Aided Engineering) approach in order to ensure the most optimal electropolishing process performance and desired metal finish, prior to running any actual process onsite.
In a few words, the CAE approach is a computer simulation practice implemented at your site before running any physical process (even before a physical component will be delivered to your site). This practice enables you to predict the final quality of a metal finish and implement appropriate mitigation strategy in case the final quality of this part will not be aligned with the required specification.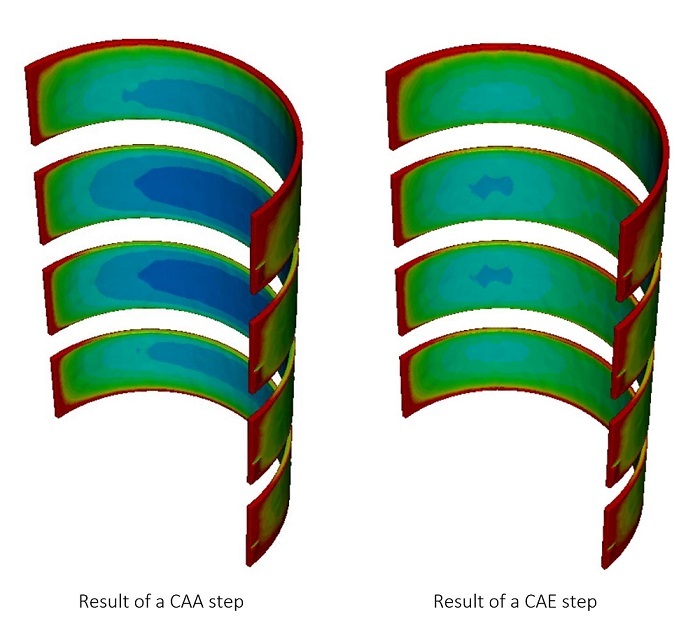 An example of such simulation work is shown in the picture: The presented model is a set of 3D printed Ti-based half-shell bearing components, finding the application for instance, in the engines of the space rockets.
Left image is the result of a Computer Aided Analysis (CAA), which assesses as-is process performance. In general, when considering an optimal process performance, the CAA step would show quiet uniform color distibution around our model. In this case, the color distribution varies, stating that we are dealing with a high degree of inhomogenity. Depending on our interest, this inhomogenity might be defined as non-homogenous current density/potential distribution, or metal dissolution or surface roughness. Each of the colors will then stand for: red – too high value, green – optimal value, blue – too low value.
Right image is the result of a CAE step, where an appropriate mitigation strategy has been implemented based on the outcome of the CAA step. It can be clearly seen that a great tactic has been used, allowing us to optimize the inhomogenity observed in the central part of the bearings (notice color change: blue to green).
As a CAE approach in the electropolishing processes is quite novel and might be used in any metal 3D printing applications, we will be giving a series of informative webinars.
Following questions will be answered:
- What is a CAE approach about (and why is it required within AMS2547)?
- How should you implement the CAE practices at your surface treatment site?
- What benefits will the implemented CAE practices bring to your organization?
How to subscribe?

This series of webinars has ended.

If you are interested to learn something new,
or if you wish to update your current knowledge with some new technological trends,
contact us on info@elsyca.com!